Guiding Framework
The CoP uses a framework for systems change adapted from the State Employment Leadership Network (SELN) (see below). The outcome of systems change is supports that help individuals and families achieve a good quality of life. Systems change is driven by innovations in supports offered to families, changes in infrastructure that make it more effective and flexible, and partnerships with organizations and the community. Family and self-advocate voices, values, and leadership are the catalysts that add fuel to the fire and make systems change more personal. Finally, all of this change is happening under the umbrella of the LifeCourse framework, which promotes the idea that all people have the right to live, love, work, play and pursue their life aspirations in the community. Learn more about the LifeCourse framework at lifecoursetools.com.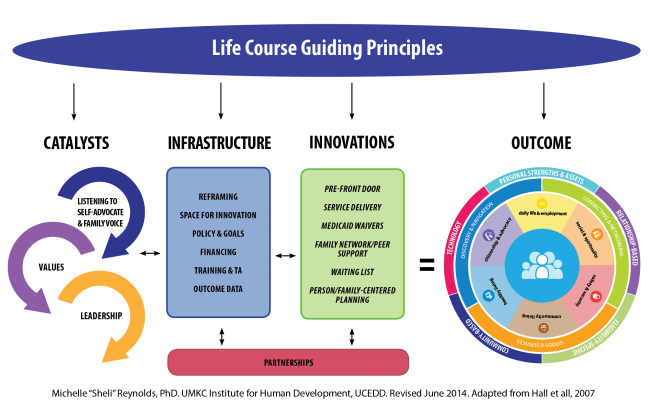 T
he service delivery system for people with disabilities has a history of discrimination and segregation, denying access to many opportunities for individuals with I/DD. Based on this historical discrimination, a change in the culture is necessary for system reform. As societal perception changes about people with disabilities so must the systems and policies designed to support them. The main catalyst for this change is listening to the self-advocate and family voice. Secondary catalysts include leadership and the value that segregation and discrimination is no longer acceptable. These catalysts nudge the system towards change.
Key to system reform is systems efficiency. Disability service systems, through both state and federal programs, furnish a wide array of services and supports to individuals with I/DD. These services and supports provide opportunities for individuals with I/DD to maximize their full  potential and participate in their families and community. The state disability system must drive forward innovative services, such as family specific strategies and family- and person- driven services.
Another consideration for system reform is the fact that the new system must effectively facilitate collaboration and use of community assets. There are three strategies in family support that emphasize collaboration and use of current assets the family and community possess, these  strategies are: discovery and navigation, connecting and networking, and goods and services.
The interplay of all these aspects come together in the community, and form the outcome of supporting families with a member with a disability across the life course.