Where has the LifeCourse Framework Been?
Nov 11, 2014 Rachel National, Newsletter, Updates 0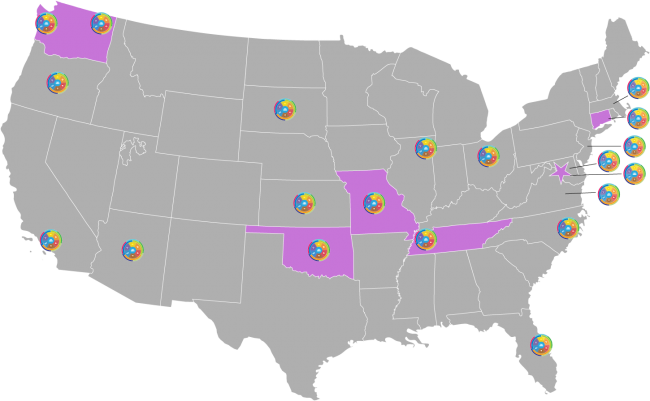 Through National Community of Practice on Supporting Families of Individuals with Intellectual and Developmental Disabilities, the LifeCourse Framework continues to be developed and adapted by the University of Missouri Kansas City Institute for Human Development. The development of the LifeCourse Framework is ongoing, and the team at UMKC continues revise and refine it to guide the work related to supporting families and enhancing the quality of life of persons with disabilities.
Since the Community of Practice entered its beginning stages in 2012, the framework has traveled many places through presentations as well as dissemination of materials and product partnership.
2014
National AUCD Conference, Washington D.C. – November 10-11, 2014
Oregon Family Network Webinar – October 14 2014
UNC School of Social Work series: Focus on Family and Disability, Chapel Hill, NC – September 8-9 2014
National HCBS Conference, Washington, D.C.- September 15–18, 2014
Reinventing Quality Conference, Baltimore, Maryland – August 3-5, 2014
National AAIDD Conference – Orlando, Florida – June 24-27, 2014
DODD Strategic Planning Leadership Group forum on Family Support and Listening to People, Reynoldsburg, Ohio – June 10-11, 2014
Future is Now: Making the Connection, Columbia, Missouri – June 17-18 2014
Tennessee Mega Conference, Nashville, Tennessee – May 28-29 2014
The Way Forward: Charting a Course for the Future,  Manhattan Beach, California – April 3-4 2014
Joining Forces: Supporting Family-Professional Partnerships Conference, Oklahoma City, Oklahoma – February 19, 2014
2014 Governors Conference on Developmental Disabilities, Oklahoma City, Oklahoma – February 18, 2014
National AMCHP Conference, Washington, D.C. – January 27-28, 2014
2013
National TASH Conference, Chicago, Illinois – December 12-13, 2013
National AUCD Conference, Washington D.C. – November 17-19, 2013
National Association of State Directors of Developmental Disabilities Services Annual Conference, Alexandria, Virginia – November 14-15, 2013
Employment First: From Vision to Reality, Association of Developmental Disabilities Providers Employment Conference, Massachusetts, November 1, 2013
2013 Delaware Leadership Institute, Newark, DE – July 24-25, 2013
Managing Life's Transitions: Understand Your Role in Your Child's Life, Columbia, Maryland – April 9, 2013
2012
Boggs Center Developmental Disabilities Lecture Series, Charting a Life Course, New Brunswick, New Jersey – December 2012
LifeCourse products and the framework have been to the following states by way of dissemination and product partnership:
Ohio (Ohio Siblings Conference, Columbus, OH – November 7-8, 2014)
South Dakota (LifeCourse Folder and Experiences Guide development, 2014)
Arizona (Supporting Families report – October 2014)
Tennessee  (LifeCourse Folder – June 2014)
Washington  (LifeCourse Folder – October 2013)
Connecticut  (LifeCourse Folder – September 2013)
---
---
Rachel is the Media & Design Specialist on the Family to Family team at the UMKC-Institute for Human Development, UCEDD. She completed her Master's in Public Administration with an emphasis in nonprofit management at UMKC. She is proud to say she is a second generation AmeriCorps member! Her passion is where social justice and technology meet. Her specialty is making projects, programs, and organizations look good.
Related articles
---