What Matters Most: Research on Elevating Parent Expectations #employment #disabilities
As National Disability Employment Month moves ahead full steam, we wanted to share this article coming out of the Partnerships in Employment Project, written by Erik Carter from Tennessee.  We know that nothing can change within systems without a change in values.  For parents to embrace the changing paradigms in terms of thinking about people with disabilities and the right to live, love, work, play and worship in their communities, we must help youth and families understand what is possible once school is over!
The most powerful force in changing transition outcomes for young people with significant disabilities is not ultimately found in the transition plans we craft, the educational services we offer, the instruction we provide, or the systems we build, but rather in the expectations and aspirations individual parents hold for their sons and daughters. All of these other efforts are no doubt essential, but absent families equipped with a clear and compelling vision for a "good life" after high school, we are missing something utterly essential.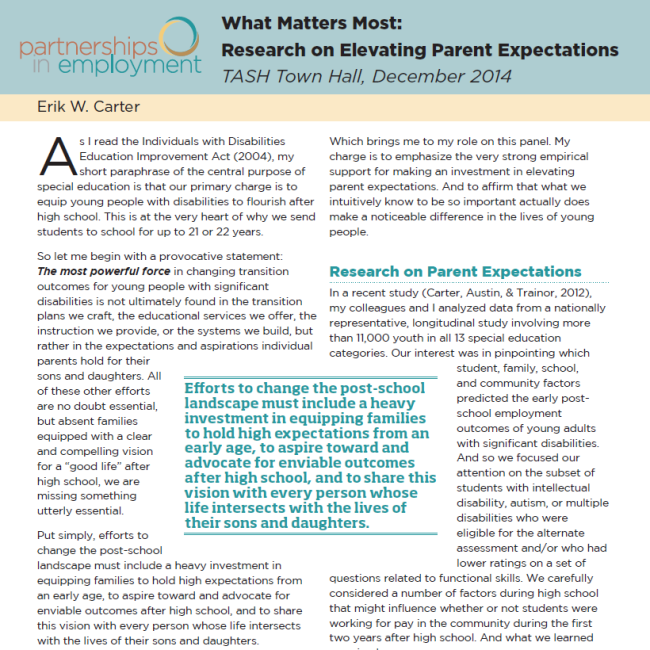 The Partnerships in Employment Training and Technical Assistance Center is working to increase employment outcomes for youth and young adults with intellectual and developmental disabilities. Our project is underway in six states: California, Iowa, Mississippi, Missouri, New York, and Wisconsin. They are intricately involved with their state education, vocational rehabilitation and developmental disabilities agencies, individuals with intellectual disabilities, families, educators, and service providers to affect changes within and across state systems.
The Partnerships in Employment state projects and the Partnerships in Employment Systems Change Training and Technical Assistance Center are funded by the Administration on Intellectual and Developmental Disabilities, Administration for Community Living, U.S. Department of Health and Human Services. Learn more about PIE at partnershipsinemployment.com
---
---
Rachel is the Media & Design Specialist on the Family to Family team at the UMKC-Institute for Human Development, UCEDD. She completed her Master's in Public Administration with an emphasis in nonprofit management at UMKC. She is proud to say she is a second generation AmeriCorps member! Her passion is where social justice and technology meet. Her specialty is making projects, programs, and organizations look good.
---