Washington Update
Family Support Conference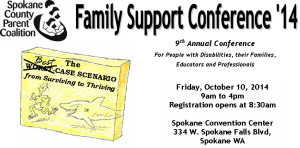 The CoP team in Washington is excited to be involved in the annual Family Support Conference hosted by the Spokane County Parent Coalition (SCPC)  for parents, family members and care givers supporting a person with a developmental disability.  It's an important opportunity for people to connect with one another, share coping strategies, and learn about resources in the community that can make their lives better. The theme for the 2014 conference is Best Case Scenario–from Surviving to Thriving.  It's a spinoff of the board game Worst Case Scenario, where people imagine themselves in awful scenarios (being lost in the jungle, chased by wolves, etc.) and guess at how to survive them.  Unfortunately, for many families supporting a child with a disability, life feels a lot like a never-ending game of Worst Case Scenario.  Life shouldn't be like that, and it doesn't have to be.  The purpose of the Family Support Conference is to help families turn worst case scenarios into best case scenarios!
Get more information about the conference here: http://www.arc-spokane.org/family-support-conference
Person Centered Planning Tool
Washington has developed an online planning tool application for person centered planning. Washington is piloting the tool right now. Families are beginning to use the tool and provide feedback. The sponsors are using the feedback to make adjustments.
Stay tuned to what Washington is doing by following them at their website: http://informingfamilies.org
---
---
Rachel is the Media & Design Specialist on the Family to Family team at the UMKC-Institute for Human Development, UCEDD. She completed her Master's in Public Administration with an emphasis in nonprofit management at UMKC. She is proud to say she is a second generation AmeriCorps member! Her passion is where social justice and technology meet. Her specialty is making projects, programs, and organizations look good.
---