Tennessee: Gathering Community Organizations at the Table
Dec 30, 2015 Rachel Newsletter, Tennessee 0
The Tennessee CoP team recently convened over 15 organizations in the Middle TN area that provide supports to families of people with disabilities. The team plans to hold similar meetings in East and West TN in 2016.
The team shared the LifeCourse framework and tools with the group of community organizations.  You can read more about the meeting in their latest Supporting Families e-newsletter. To read the newsletter, visit the following link: http://eepurl.com/bGLT6n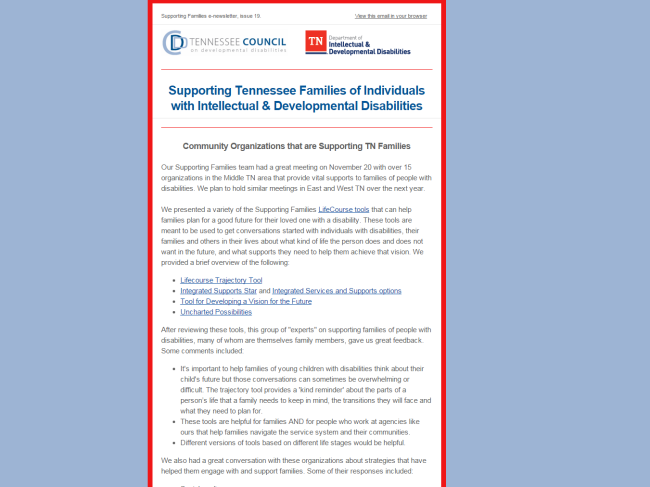 To sign up for updates from the Tennessee Community of Practice, please visit: http://eepurl.com/BDhsH
---
---
Rachel is the Media & Design Specialist on the Family to Family team at the UMKC-Institute for Human Development, UCEDD. She completed her Master's in Public Administration with an emphasis in nonprofit management at UMKC. She is proud to say she is a second generation AmeriCorps member! Her passion is where social justice and technology meet. Her specialty is making projects, programs, and organizations look good.
Related articles
---