Supporting Individuals with Intellectual or Developmental Disabilities and their Families: Status and Trends Through 2013
Project partners HSRI and NASDDDS, along with the RTC on Community Living at the University of Minnesota, are happy to announce that the Supporting Individuals with IDD and their Families – Status and Trends Through 2013 has been published on the website.  The publication is currently being printed.  Each of you/your organizations will be receiving hard copies.  Please let me know if you would like additional copies.
Also available on the website are the one-page infographics that you can download and print, as well as new features in the Chart Gallery.
Visit the website to check out the reports and infographics at: https://fisp.umn.edu/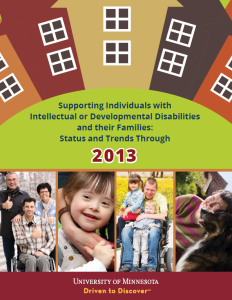 What is FISP?
FISP establishes and refines a comprehensive program of annual data collection from states on family support, and conducts longitudinal data analysis, policy studies, and dissemination activities to better understand and promote effective supports for families and individuals with intellectual and/or developmental disabilities (IDD) who direct their own support. The data gathered will be used to help federal and state agencies understand the current status and emerging trends in supporting families and individuals with IDD living in homes of their own or with family members (including consumer direction). It will also be used to compare and contrast services and expenditures targeting the person with IDD versus those targeting the family members with whom they reside, and to compare services for children versus services for adults with IDD.
---
---
Rachel is the Media & Design Specialist on the Family to Family team at the UMKC-Institute for Human Development, UCEDD. She completed her Master's in Public Administration with an emphasis in nonprofit management at UMKC. She is proud to say she is a second generation AmeriCorps member! Her passion is where social justice and technology meet. Her specialty is making projects, programs, and organizations look good.
---