Supporting Families to Plan for Employment in Tennessee
Oct 01, 2015 Rachel LifeCourse, Newsletter, Tennessee 0
The TN Council on Developmental Disabilities staff recently met with family members of people with disabilities at Tennessee Family Coalition meetings in Memphis and Nashville (groups of families interested in employment opportunities for people with disabilities) to talk about using LifeCourse tools and concepts to plan for employment for their family members with I/DD
The team asked families questions from Charting the LifeCourse: Experiences & Questions to help them consider employment and think about how they can begin preparing:
Do you make sure I have responsibilities at home (like other family members) such as daily chores?
Are you encouraging me to try new and different activities to discover my interests, talents and passions that might lead to a job?
Are you helping me explore assistive technology that would help with learning employment and independent living skills?
Can I turn an interest of mine into a way to earn income or start my own business?
Are there people in our family's life that might let me "shadow" them at their job or have an internship?
Families were also introduced to LifeCourse tools that can help them begin to have conversations about employment and start planning for what is needed to make their employment vision possible. The TN team customized the Life Trajectory Worksheet and used the Integrated Star Worksheet to help guide families' thinking.
Read the full information on the employment workshop and even more news from the Tennessee team at http://eepurl.com/bzuGI1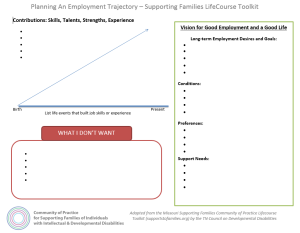 ---
---
Rachel is the Media & Design Specialist on the Family to Family team at the UMKC-Institute for Human Development, UCEDD. She completed her Master's in Public Administration with an emphasis in nonprofit management at UMKC. She is proud to say she is a second generation AmeriCorps member! Her passion is where social justice and technology meet. Her specialty is making projects, programs, and organizations look good.
Related articles
---