Sharing the LifeCourse Framework with the Nation #AUCD2014 #supportingfamilies
Nov 07, 2014 Rachel National, Newsletter, Updates 0
The National Community of Practice for Supporting Families of Individuals with I/DD will be spreading the word about the project through a a breakout session and poster at the 2014 AUCD Conference.  This year's theme is The Power of Engagement. The 2014 AUCD Conference theme reflects their goal of achieving an elevated level of engagement with communities, networks, and well beyond in order to better inform, enhance, and enrich the work we all do to improve the lives of people with disabilities and their families.
Sheli Reynolds, PhD, and Mary Lee Fay, will present Highlights from the National Community of Practice on Supporting Families and Individuals with Intellectual and Developmental Disabilities throughout the LifeCourse. The session will highlight policies, practices and structural changes needed to ensure individuals and their families the right to live, love, work, and play in their communities. Lessons learned from state and national partners as well as opportunities to get involved at the state and national level will be provided.
The poster session is Charting the LifeCourse: A Framework in Supporting individuals with Intellectual and Developmental Disabilities and their Families across the Life span.
The poster will show how the LifeCourse framework and accompanying tools and resources help individuals and families plan for life, life in the community, life with the right amount of support to live, work, and play just as any other citizen. It gives a timeline of the creation of the framework, and information on how it got to where it is today.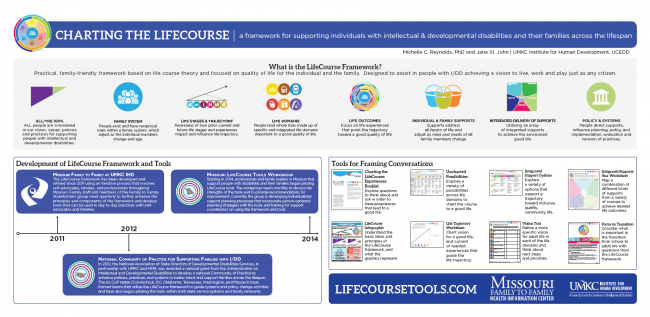 Learn more about the annual event here: http://www.aucd.org/conference/
---
---
Rachel is the Media & Design Specialist on the Family to Family team at the UMKC-Institute for Human Development, UCEDD. She completed her Master's in Public Administration with an emphasis in nonprofit management at UMKC. She is proud to say she is a second generation AmeriCorps member! Her passion is where social justice and technology meet. Her specialty is making projects, programs, and organizations look good.
Related articles
---