Read the Community of Practice Year One Report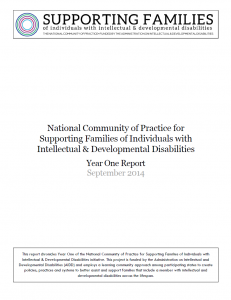 The purpose of this report is to provide a description of the activities and achievements associated with the first year of the project. What follow is: (a) a description of the COP's design and purpose, including summaries of the project's conceptual underpinnings related to systems change and the Life Course framework, (b) Year One activities, (c) lessons learned, and (d) next steps.
This report chronicles Year One of the National Community of Practice on Supporting Families initiative. This project is funded by the Administration on Intellectual and Developmental Disabilities (AIDD) and employs a learning community approach among participating states to create policies, practices and systems to better assist and support families that include a member with intellectual and developmental disabilities across the lifespan.
---
---
Rachel is the Media & Design Specialist on the Family to Family team at the UMKC-Institute for Human Development, UCEDD. She completed her Master's in Public Administration with an emphasis in nonprofit management at UMKC. She is proud to say she is a second generation AmeriCorps member! Her passion is where social justice and technology meet. Her specialty is making projects, programs, and organizations look good.
---