Providing Supports Across the Lifespan
Decisions made at a very early age can have a profound influence on that person's life later on. If we're hoping that an individual with a disability and the family that supports him or her will live as independently as possible, integrated in their community, with positive relationships and meaningful days, we have to pay attention to what needs the individual has and identify those supports required at every step along the way.
The ability to look ahead and plot a "life course" is challenging, especially when you're caught up in the challenges of "just getting through the day".  But it's almost always better to ask those critical questions now, than to wish those questions had been asked earlier, after opportunities pass by and perhaps a less than satisfactory life 'trajectory' has been established.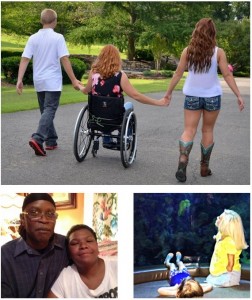 Read the rest of Tennessee's latest newsletter  on the Supports Across the Lifespan here: http://us6.campaign-archive2.com/?u=c19758ec49388aade26feeccf&id=dd82de6ccf&e=be22eec49d
---
---
Rachel is the Media & Design Specialist on the Family to Family team at the UMKC-Institute for Human Development, UCEDD. She completed her Master's in Public Administration with an emphasis in nonprofit management at UMKC. She is proud to say she is a second generation AmeriCorps member! Her passion is where social justice and technology meet. Her specialty is making projects, programs, and organizations look good.
---