Oklahoma Update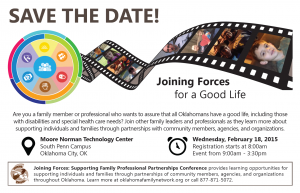 Joining Forces
Oklahoma hosts a yearly conference called Joining Forces. The mission of this conference is to provide leadership skills and opportunities to promote family/professional partnerships. The goals of the conference are
To increase the awareness of the importance of family/professional partnerships;
To increase family participation in the development, implementation and evaluation of programs;
To increase leadership and partnership skills; and
To identify opportunities for family leadership.
The 2015 Joining Forces Conference is February 19 in Oklahoma City. The conference brings together family leaders and professionals to learn more about working in partnership to achieve a "good life" for the person with special health care needs or developmental disabilities. The Oklahoma Community of Practice team is busy working to make Joining Forces the best it can be, using the LifeCourse Framework and tools.
LifeCourse Partnerships
DDS, partnering with SoonerSUCCESS, restructured the layout of the On The Road Family Perspective Conference using the LifeCourse framework in the discussion of DDS services to lead the opening sessions of the day. The first On The Road with the new structure was presented on Nov. 18th and feedback was positive from those attending.
---
---
Rachel is the Media & Design Specialist on the Family to Family team at the UMKC-Institute for Human Development, UCEDD. She completed her Master's in Public Administration with an emphasis in nonprofit management at UMKC. She is proud to say she is a second generation AmeriCorps member! Her passion is where social justice and technology meet. Her specialty is making projects, programs, and organizations look good.
---