May Oklahoma Update: LifeCourse Tools in Action
May 19, 2015 Rachel Newsletter, Oklahoma 0
LifeCourse Framework for All Families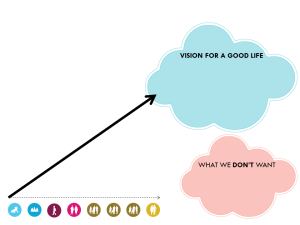 The Oklahoma Community of Practice team was successful in piloting LifeCourse tools with a new target population.  Members of the team from the Oklahoma Family Network, Oklahoma's Family-to-Family Health Information Center which provides information and support to individuals with I/DD or special health care needs and their families, used LifeCourse Tools with families involved in the foster care system in underserved areas of the state. Parents learned about the principle of the trajectory and a vision for a good life.  They were then supported to complete the Life Trajectory Worksheet, which meant articulating what their vision for a good life was and then identifying life experiences needed to make that life possible. This conversation helped the families think beyond their current situation, and the parents were very engaged in the process.
The OK Community of Practice team will continue developing awareness of the tools and how they are used with professionals and plans to infuse into the LifeCourse framework into training materials and workshops offered to families and professionals across the state.  The CoP is excited to share this example of how LifeCourse thinking can help families from all walks of life, because they are for any person or family that is working to create a vision for the future.
LifeCourse and Person Centered Thinking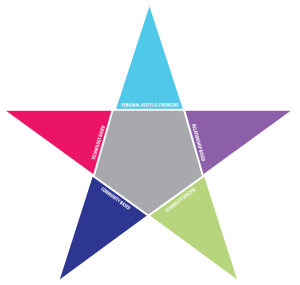 The Oklahoma team met jointly with The Learning Community for Person Centered Practices and applied the LifeCourse Framework to planning with a young man who already had a Person-Centered Plan. The team used the Life Trajectory Worksheet and the Integrated Supports Star Worksheet to look at the supports he currently has as well as what he will need to make his good life possible.  The young man would like to move from his location in a rural area of the state to Oklahoma City. He wants to live near family, attend college and get a driver's license.
Planning with Person-Centered Thinking helped him identify his strengths and preferences of the young man and set some life goals, while the LifeCourse tools helped him and his circle dig a little deeper into the what, who and how of the supports and resources needed to meet his goals. Using the LifeCourse tools helped them think through and identify a broader array of community supports, including family members willing to give him a car and pay for insurance.
---
---
Rachel is the Media & Design Specialist on the Family to Family team at the UMKC-Institute for Human Development, UCEDD. She completed her Master's in Public Administration with an emphasis in nonprofit management at UMKC. She is proud to say she is a second generation AmeriCorps member! Her passion is where social justice and technology meet. Her specialty is making projects, programs, and organizations look good.
Related articles
---