Mary Lee Fay Named New NASDDDS Executive Director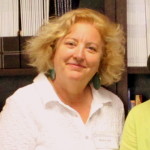 The Community of Practice for Supporting Families of Individuals with I/DD would like to congratulate CoP Co-director, Mary Lee Fay, of NASDDDS, who has been named the Executive Director of NASDDDS!
From nasddds.org:
The Board of Directors of the National Association of State Directors of Developmental Disabilities Services has named Mary Lee Fay to replace Nancy Mary Lee Fay, NASDDDS Executive Director Thaler as the Association's Executive Director. Mary Lee has been working with NASDDDS since 2012 as the Director of National Core Indicators and Coordinator of the Supporting Families Community of Practice. Mary Lee begins her new duties immediately. Nancy Thaler left the organization on July 1st to become the Deputy Secretary of the Office of Developmental Programs in Pennsylvania.

"I am honored that the members of the NASDDDS Board of Directors have selected me to serve as the Executive Director," Ms. Fay said. "I consider myself very lucky to be able to work at something I love and believe in. NASDDDS plays a very important role in supporting state agencies responsible for designing and administering large service systems and working with other national groups to promote best practices. As a state director, I experienced the benefits of membership in NASDDDS and I hope to maintain and expand on the extraordinary organization that NASDDDS has become."tf
We can't see what amazing things Mary Lee is able to accomplish for individuals with I/DD and their families!
---
---
Rachel is the Media & Design Specialist on the Family to Family team at the UMKC-Institute for Human Development, UCEDD. She completed her Master's in Public Administration with an emphasis in nonprofit management at UMKC. She is proud to say she is a second generation AmeriCorps member! Her passion is where social justice and technology meet. Her specialty is making projects, programs, and organizations look good.
---