LifeCourse Showcase: Missouri LifeCourse Tools & Practice Workgroup pushes forward
Mar 08, 2016 Rachel LifeCourse, Missouri, Newsletter 0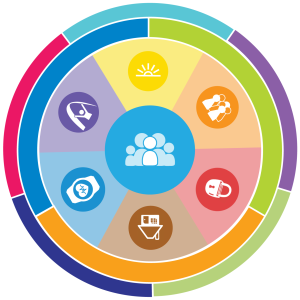 The Missouri Tools & Practice Workgroup has been hard at work piloting the LifeCourse framework and tools across the state.
They planned the full 2016 meeting schedule before the end of 2015. Previously they met bi-monthly; however, this year, the group they began meeting monthly with a combination of virtual meetings hosted at local sites as well as face-to-face meetings in the center of the state. The purpose of convening workgroup members at local sites is to foster collaboration and new partnerships. The group is also using video-conferencing as a means of decreasing the economic costs associated with statewide collaboration.
In their first virtual meeting in January, five host sites stepped up to host over 30 attendees. Participants shared what they had been doing at each of their organizations and what they had learned over the past year.
In February, members of the workgroup convened in Columbia, MO for a face-to-face meeting. To begin the meeting, each attendee was given a handout of questions that we use for submitting LifeCourse Tools examples on lifecoursetools.com. Each attendee was asked to fill out the form to share one example of how they or someone in their organization had used a LifeCourse tool. Afterwards, each person then introduced themselves to the group, sharing their name, organization and their Tools example. They then discussed what was going well and what were some of the barriers they were encountering as the piloted the framework and tools in their daily work and organizational activities.
The LifeCourse Tools and Practices Workgroup develop new LifeCourse tools as needed, coaches professionals who are using the tools, continuously improves tools based on feedback, and provides guidance to organizations on implementing the framework.
---
---
Rachel is the Media & Design Specialist on the Family to Family team at the UMKC-Institute for Human Development, UCEDD. She completed her Master's in Public Administration with an emphasis in nonprofit management at UMKC. She is proud to say she is a second generation AmeriCorps member! Her passion is where social justice and technology meet. Her specialty is making projects, programs, and organizations look good.
Related articles
---