Kicking off the Supporting Families Community of Practice in South Dakota!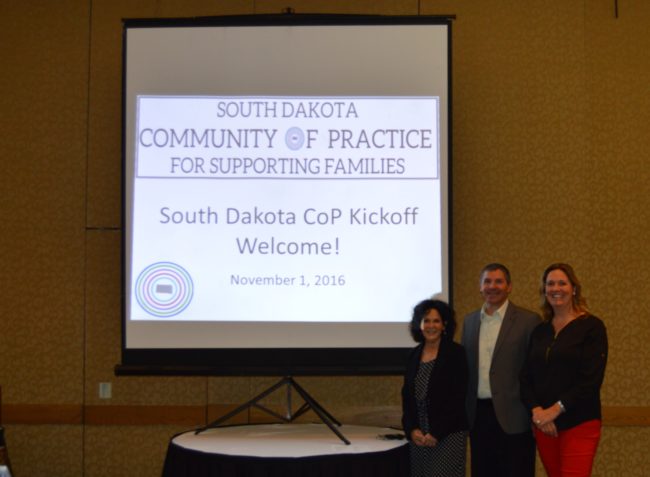 The South Dakota Division of Developmental Disabilities (DDD) and the SD Council on Developmental Disabilities hosted its Supporting Families Community of Practice (CoP) kickoff meeting with the national CoP project directors on November 1 and 2, 2016. South Dakota is one of eleven expansion states in the national Community of Practice for Supporting Families of Individuals with Intellectual and Developmental Disabilities.
"We were fortunate to have national leaders in Sheli Reynolds from the University of Missouri Kansas City Institute of Human Development and Barbara Brent from the National Association of State Directors of Developmental Disabilities Services join us to facilitate the development of our state team efforts. We had a great turnout and a diverse group of self-advocates, family members, professionals and system partners gathered together to learn more about the LifeCourse framework to strengthen best practices in supporting families." said DDD Director Dan Lusk.
The state team gathered to lay the foundation for a state work plan to ensure state policies, practices and systems support family networks, provide family-centered case management, expand service available in the home and strengthen the role of families. The team focused on developing a comprehensive, coordinated set of person-centered and family-centered strategies.
Parent and team member Francey McOwen said, "Due to my daughter Katie following her dreams toward home ownership and life in the community, I was able to follow mine too! As a member of the state team, I hope that I can inspire other parents to improve their quality of life as well as their children's. The CoP is truly a life enhancement for the whole community and state."
---
---
Rachel is the Media & Design Specialist on the Family to Family team at the UMKC-Institute for Human Development, UCEDD. She completed her Master's in Public Administration with an emphasis in nonprofit management at UMKC. She is proud to say she is a second generation AmeriCorps member! Her passion is where social justice and technology meet. Her specialty is making projects, programs, and organizations look good.
---