Issue Brief: Overview of the #LifeCourse Framework now available!
Each time the Community of Practice hosts a new Innovations webinar, an issue brief will be developed to expand on the topic and provide further information
Please check out our first issue brief: Overview of the LifeCourse Framework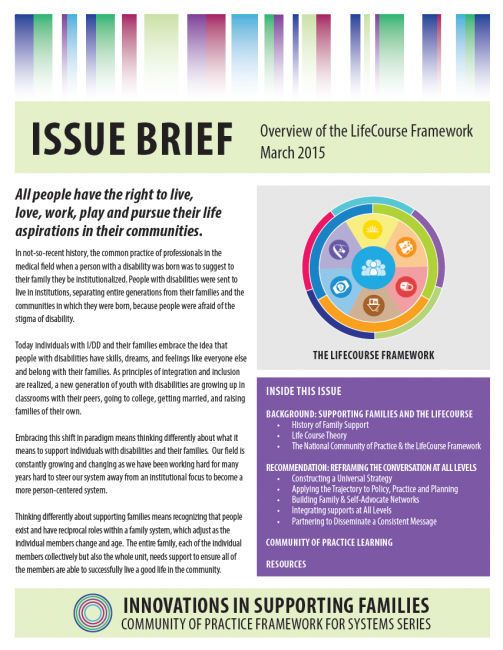 Inside this Issue:
Supporting Families & the LifeCourse
History of Family Support
Life Course Theory
The National Community of Practice & the LifeCourse Framework
Reframing the Conversation at All Levels
Constructing a Universal Strategy
Applying the Trajectory to Policy, Practice and Planning
Building Family & Self-Advocate Networks
Integrating supports at All Levels
Partnering to Disseminate a Consistent Message
Community of Practice Learning
Resources
Did you miss the Overview of the LifeCourse Framework Webinar?
Watch the next webinar in the series: Focusing on the Front Door of Long-Term Services to Enhance Supports to Families
This issues brief is part of a series focused on innovative strategies to enhance the systems that support families of individuals with intellectual & developmental disabilities. Get the details about the Innovations Series.
---
---
Rachel is the Media & Design Specialist on the Family to Family team at the UMKC-Institute for Human Development, UCEDD. She completed her Master's in Public Administration with an emphasis in nonprofit management at UMKC. She is proud to say she is a second generation AmeriCorps member! Her passion is where social justice and technology meet. Her specialty is making projects, programs, and organizations look good.
---