Focusing on the Front Door Innovations Series Issue Brief now available!
Changing that very first interaction at the front door to better provide information and hope for the future, opportunities to connect with other families and networks, and think of options outside of the formal system for supporting people to achieve the good life is the focus of this issue brief. Read this issue to discover how two states have worked to make this initial encounter at the front door more functional and family-friendly and what they learned in the process.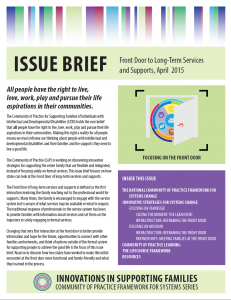 Inside this Issue:
The National Community of Practice Framework for Systems Change
Innovative Strategies for Systems Change

Focusing on Tennessee

Seizing the Moment: The Lean Event
Infrastructure: Reframing the Front Door

Focusing on Missouri

Infrastructure: Reframing the Front Door
Partnerships: Meeting Families at the Front Door

Community of Practice Learning
The LifeCourse Framework
Resources
Download the Issues Brief 
Did you miss the Focusing on the Front Door of Long-Term Services to Enhance Supports to Families Webinar?
Watch the next webinar in the series: We're All in This Together: Uniting the Movements for a Good Life
This issues brief is part of a series focused on innovative strategies to enhance the systems that support families of individuals with intellectual & developmental disabilities. Get the details about the Innovations Series.
---
---
Rachel is the Media & Design Specialist on the Family to Family team at the UMKC-Institute for Human Development, UCEDD. She completed her Master's in Public Administration with an emphasis in nonprofit management at UMKC. She is proud to say she is a second generation AmeriCorps member! Her passion is where social justice and technology meet. Her specialty is making projects, programs, and organizations look good.
---