February Tennessee Update
Feb 13, 2015 Rachel Newsletter, Tennessee 0
Collecting the Self-Advocate & Family Voice to enhance systems

The Tennessee Developmental Disabilities Council, a partner on the CoP state team, is working with Vanderbilt Kennedy Center in their Kindred Stories project. For this project, 40 Vanderbilt students will interview 20 families from variety of groups in order to determine what issues families are facing. This information will be aggregated and trended in order to look for opportunities for systems improvement. The resulting "stories" will be on shared online and also be used to help convey the needs of families to policymakers.
Discussing Supports to Families in Tennessee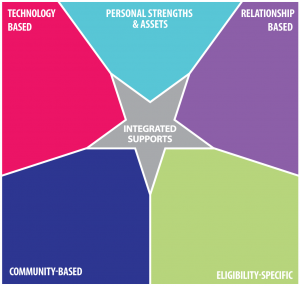 One of the Tennessee partners, Tennessee Department of Intellectual and Developmental Disabilities, just received the Person Centered Excellence Network Accreditation from the Council on Quality and Leadership-CQL. One of the areas the DIDD Accreditation plan focuses on is Families, supporting natural supports and emerging natural supports. The CoP team will be infusing the LifeCourse framework into the activities they have planned for 2015, which include family focus groups to garner input on what is working and not working currently in this area.
In addition, the DIDD is hosting family focus groups for people on the waiting list in the West Region of Tennessee to discuss what formal and informal supports they use in order to keep their families together. These meetings are taking place in February.
---
---
Rachel is the Media & Design Specialist on the Family to Family team at the UMKC-Institute for Human Development, UCEDD. She completed her Master's in Public Administration with an emphasis in nonprofit management at UMKC. She is proud to say she is a second generation AmeriCorps member! Her passion is where social justice and technology meet. Her specialty is making projects, programs, and organizations look good.
Related articles
---