February DC update
Feb 13, 2015 Rachel DC, Newsletter 0
New #LifeCourse partnership in DC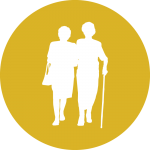 The DC team has just began a conversation with their Aging and Disability Resource Center (ADRC) around how the Supporting Families CoP can be involved in helping them expand their services for older people with intellectual and developmental disabilities.
The Aging and Disability Resource Center Program is a collaborative effort of the U.S. Administration on Community Living and the Centers for Medicare & Medicaid Services (CMS). ADRCs serve as single points of entry into the long-term supports and services system for older adults and people with disabilities. Sometimes referred to as a "one-stop shops" or "no wrong door" systems, ADRC programs help families by providing objective information about the full range of options that are available for long-term services and supports and connecting them with resources. Find your ADRC at  http://www.adrc-tae.acl.gov/tiki-index.php?page=ADRCLocator
Informing Families: Making Materials Accessible in DC
The DC team is talking with their Medicaid agency about the need to develop materials and training sessions that are family friendly and will be an information dissemination partner.  DC is implementing changes to eligibility requirements for Medicaid long term services and supports. The agency has developed training and materials for state agencies and advocates but not yet for beneficiaries and their families.  They have agreed to develop those and the DC team will help distribute and invite its state team members and other stakeholders to their training sessions.
---
---
Rachel is the Media & Design Specialist on the Family to Family team at the UMKC-Institute for Human Development, UCEDD. She completed her Master's in Public Administration with an emphasis in nonprofit management at UMKC. She is proud to say she is a second generation AmeriCorps member! Her passion is where social justice and technology meet. Her specialty is making projects, programs, and organizations look good.
Related articles
---