Connecticut Update
Regional Champions
Connecticut is branching out to the next level of LifeCourse leaders. The Community of Practice team is reaching out to find Regional Champions that can take the message to other in their area. The goal is to have at least one Champion in each region of the state, and this person will do presentations and give information on the Community of Practice and the LifeCourse. This is a big step, moving beyond just the state team and utilizing other people who have the same values and can take the message to their communities.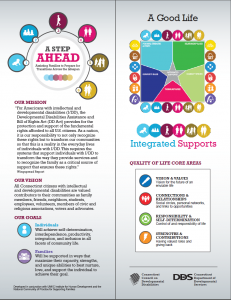 New branding
CT's team developed a new branding to promote the project. The front showss the mission, vision, and goals of the project on one side. The back shows how integrated supports, across the lifespan, make for a good life, and explains the quality of life core areas. The team has orders 10,000 of the bookmark and will be disseminating them at meetings and events.
---
---
Rachel is the Media & Design Specialist on the Family to Family team at the UMKC-Institute for Human Development, UCEDD. She completed her Master's in Public Administration with an emphasis in nonprofit management at UMKC. She is proud to say she is a second generation AmeriCorps member! Her passion is where social justice and technology meet. Her specialty is making projects, programs, and organizations look good.
---