May Connecticut update: Integrating Supports through Technology & Eligibility-Specific Supports
May 18, 2015 Rachel Connecticut, Newsletter 2
Focus on Technology

Connecticut began a pilot project with TYZE in April of 2015. TYZE is an online tool that helps people create groups of support. It is a social network with the goal of supporting individuals who may have various kinds of needs. It is being used in Connecticut with individuals who self-direct their services to enhance relationships and connect to community resources. Users are learning how to broaden their circle of support. This is a very innovative pilot, and we look forward to hearing from the Connecticut team on its progress.
Integrated Supports at DDS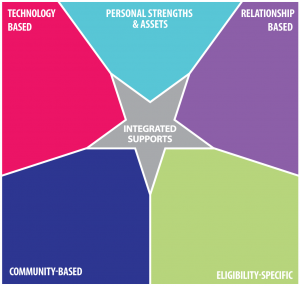 The LifeCourse Framework and Tools have been integrated into the day to day work of the Connecticut Department of Developmental Services. The state team continues to get more examples of families and DDS regional staff using the STAR concept, finding a variety of supports to help instead of only focusing on paid or eligibility specific supports. The staff also are using many of the LifeCourse tools. The state team has heard many examples of families beginning to offer their own creative solutions to meet their son or daughters support needs.   This shows how the LifeCourse concepts have taken hold in Connecticut. The team has started thinking about sustainability, and how to ensure that the work continues long after the grant ends, one way for that to happen is for leadership to be from the community, and not just from the state agency.
---
---
Rachel is the Media & Design Specialist on the Family to Family team at the UMKC-Institute for Human Development, UCEDD. She completed her Master's in Public Administration with an emphasis in nonprofit management at UMKC. She is proud to say she is a second generation AmeriCorps member! Her passion is where social justice and technology meet. Her specialty is making projects, programs, and organizations look good.
Related articles
---