Connecticut: Focusing on Technology
Dec 29, 2015 Rachel Connecticut, Newsletter 0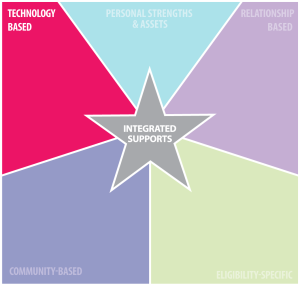 Technology has surfaced as a major focus of the Connecticut Community of Practice team. They are working hard to not only discover innovative ways of using technology as a support, but also to educate individuals, family members, and professionals on how to use technology to increase independence and enhance quality of life for people with I/DD.
The team is gearing up for a series of training sessions across the state, which will kick off in January 2016, for people with I/DD, their family members and other DDS stakeholders. Attendees will learn about technology that is specially designed to assist people with intellectual and developmental disabilities to become more independent. Additional information about the training sessions to be held will be posted on the DDS website and on the CT Tech Act Website.
In addition, the CoP team has been working hard to develop a LifeCourse/Person-Centered Planning Network.  First, they worked to make the College of Direct Supports Person-Centered Planning modules open to families. They are setting it up so that they can be connected to the LifeCourse materials as well. They are also ensuring that all of the case managers are required to take those modules as well. Their goal is to train 25 family members and DDS staff as ambassadors, and then train a select few of the families and DDS staff who participate to become facilitators of LifeCourse training sessions across the state.
You can learn even more about what's been happening in Connecticut around Technology in our latest Innovations series webinar, Technology & Supporting Families.
---
---
Rachel is the Media & Design Specialist on the Family to Family team at the UMKC-Institute for Human Development, UCEDD. She completed her Master's in Public Administration with an emphasis in nonprofit management at UMKC. She is proud to say she is a second generation AmeriCorps member! Her passion is where social justice and technology meet. Her specialty is making projects, programs, and organizations look good.
Related articles
---