April Oklahoma Update
Apr 03, 2015 Rachel Newsletter, Oklahoma 0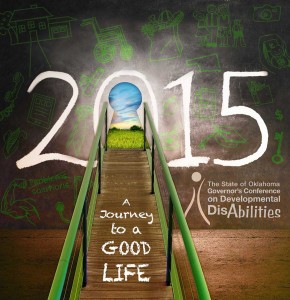 Journey to a Good Life
The 2015 Governor's Conference on Developmental Disabilities took place March 4-5, 2015. This year's theme for the 2015 Governor's Conference on Developmental Disabilities was"Journey to a Good Life." It reflects the Oklahoma Department of Human Services Developmental Disabilities Services' and its partners desire to help all Oklahomans to live a good life in the communities where they live and work. The conference focused on best practices to support individuals and families as they develop a road map to a life of participation and inclusion. Designed for individuals with developmental and/or intellectual disabilities, their loved ones, direct support and other professionals, policymakers and self-advocates, this year's conference brought together state and nationally known experts in the field of developmental disabilities to explore these important questions and potential answers as individuals and their families plan and work to chart their life course for the future.
The 2015 Joining Forces also took place recently in February. Read a review from a parent who attended: http://okwnews.com/news/lifestyle/health-wellness/107660-keep-it-together.html
Consistent Messaging
Oklahoma has completed their draft of the LifeCourse resource folder and LifeCourse guide. Both of these products were developed using a template created in Missouri but were customized with current resources and information specific to their state.  A consistent message and look across any project or movement is important, and we are happy to announce that OK is the fourth CoP state to develop their own version of the folder and the second CoP state to customize the LifeCourse guide.  Drafts of both products were disseminated at the Governor's conference.
---
---
Rachel is the Media & Design Specialist on the Family to Family team at the UMKC-Institute for Human Development, UCEDD. She completed her Master's in Public Administration with an emphasis in nonprofit management at UMKC. She is proud to say she is a second generation AmeriCorps member! Her passion is where social justice and technology meet. Her specialty is making projects, programs, and organizations look good.
Related articles
---