AMCHP 2015: United to Build Healthier Communities
Feb 13, 2015 Rachel National, Newsletter, Updates 0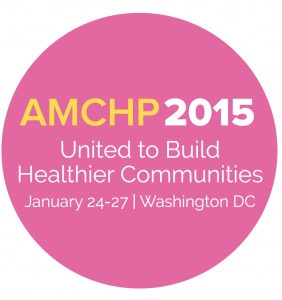 Community of Practice co-director Sheli Reynolds (UMKC IHD) and her staff presented Supporting Families across the Life Course: National Framework Guiding Family Practices and Organizational and Policy Transformation to a packed room of professionals, researchers, and others from the public health arena focused on maternal child health at the Association of Maternal & Child Health Programs (AMCHP) national conference last month on January 26, 2015.
The AMCHP conference is an annual event that brings together nearly a thousand professionals in fields like infant mortality reduction, women's and reproductive health, early childhood services,  birth defects/genetics, and a range of other programs that serve women, children and families.  AMCHP is the national organization representing state public health leaders and others working to improve the health and well-being of women, children and youth, including those with special health care needs, and families.
To learn more about AMCHP, visit amchp.org
---
---
Rachel is the Media & Design Specialist on the Family to Family team at the UMKC-Institute for Human Development, UCEDD. She completed her Master's in Public Administration with an emphasis in nonprofit management at UMKC. She is proud to say she is a second generation AmeriCorps member! Her passion is where social justice and technology meet. Her specialty is making projects, programs, and organizations look good.
Related articles
---