2015 National Sibling Leadership Network Conference May 30-21, 2015 in Kentucky
Apr 02, 2015 Rachel Event, National, Newsletter, Uncategorized, Updates 0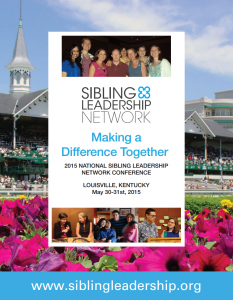 We are proud and excited to announce that National Community of Practice Co-Director, Sheli Reynolds, will be one of the keynotes at the 2015 National Sibling Leadership Network Conference May 30-31 in Louisville, KY. She will be presenting Charting Your LifeCourse to a Good Life.
The National Sibling Leadership Network Conference is an opportunity to connect with other siblings of people with disabilities and those who care about siblings. Hear from national experts on the latest in sibling services and supports, learn about new research initiatives, and participate in sibling and disability advocacy efforts. You will have an opportunity to learn about resources, share stories, network and gain insight on sibling experiences.  Get more information about the conference or register at http://siblingleadership.org/get-involved/national-sln-conference/
The National Sibling Leadership Network is one of the national partners on the Community of Practice project.  The Sibling Leadership Network provides siblings of individuals with disabilities the information, support and tools to advocate with their brothers and sisters and promotes the issues important to them and their entire families.
---
---
Rachel is the Media & Design Specialist on the Family to Family team at the UMKC-Institute for Human Development, UCEDD. She completed her Master's in Public Administration with an emphasis in nonprofit management at UMKC. She is proud to say she is a second generation AmeriCorps member! Her passion is where social justice and technology meet. Her specialty is making projects, programs, and organizations look good.
Related articles
---